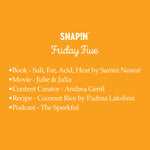 Our little team at SNAP!N is endlessly inspired by great content around us. Books, movies, shows, podcasts, and what have you. Sources of inspiration are unending and the more you share, the more you discover!
So we'd like to share our weekly recommendations with you, our food and cooking loving community.
Stay tuned for new recommendations, every Friday.
Book - Salt, Fat, Acid, Heat by Samin Nosrat.
Samin Nosrat's book is not just a collection of recipes. It punches way higher.
It gives us a system of cooking. A simple and useful system whereby concentrating on the 4 basic elements can help us become a better cook.

Illustrations throughout the book by Wendy McNaughton are a huge addition to the immersive experience, that is this book.

PS: A documentary series based on the book and produced by Samin herself is now streaming on Netflix.
Catch it here.
Get the book here.
Movie - Julie & Julia
This week's movie recommendation is popular and no hidden gem, but it is a classic that (in our opinion) can be devoured a number of times.

It is based on true stories of food blogger Julie Powell and renowned chef Julia Child, played by Amy Adams and Meryl Streep, respectively.
Here's one of our all time favourite and relatable quotes from the movie - "Think it over: every time you taste something that's delicious beyond imagining and you say,"what's in this?", the answer is always going to be, butter."
You can watch or re-watch the movie, here.
Content Creator - Andrea Gentl
You can follow her work, here.
Recipe - Coconut Rice by Padmalakshmi
Comforting and flavourful Coconut rice.
Our favourite bit in this recipe video is Padma's mom fawning over the pickle jar in which Padma stores salt. And of course, watching the kadi patta and chillies spluttering in the oil.
Watch the video here.


Podcast - The Sporkful
This one comes highly recommended on a bunch of online portals and we can see (hear?) why.
Hosted by Dan Pashman, the podcast offers  stories about food from around the world and the people behind it.
Cultures and human experiences are at the centre of each episode and there's always something new to learn.

The intro reads 'The Sporkful isn't for foodies, it's for eaters.'
Interest piqued?
You can catch the episodes here.