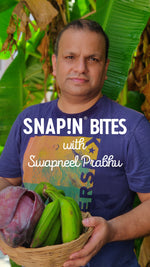 Kashmiri Cuisine - Beyond The Wazwan.
The Wazwan is a significant part of Kashmiri cuisine. But what's beyond the multi-course feast that Kashmir is known for? Home chef Swapneel Prabhu talks to us about the various facets of Kashmiri cuisine, from the variety of breads at the kaandars of each neighbourhood to the process of preserving produce for consumption during harsh winters.
SNAP!N Bites is a series where we collaborate with talented chefs and creators who dive into the details of their own flavourful journey with food.
Watch the video below to know more: