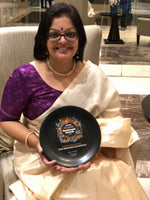 When I did my Masters in English Literature, I had no idea that I would somehow get steered in the direction of food.

Sitting on a stool in my grandmother's kitchen & watching her pat Bhakris or talk about the varying levels of roasting sooji, food was something that I went to for comfort but never thought of it as a possible vocation.

In fact, I even did a certificate course in Bakery & Confectionery in college but that was primarily so I could skip studying two other subjects I had no interest in!

Much later, when I was married and had a kitchen of my own & food blogging became popular, I dived in too, blending my love for cooking and writing to record my adventures in this newfound freedom.

Over time, it became more than just a serious hobby & I gathered the qualifications & experience to teach baking & cook commercially.

I now work as a culinary consultant, curating product ranges & developing products for food retail, design menus for restaurants & conduct popups & food festivals as well.

Writing, however, has always been my first love. In the past six years, I was able to work on three books--The Gore Family Cookbook, Crumbs! and Pangat, and each has been an immensely rewarding experience. Hearing from readers - not just about recipes they've tried but also about how they related to the narratives in my books, is all the motivation I need.

For the past few years, I have been increasingly drawn to studying the cuisine of my roots—of Maharashtra—and making it more accessible to an audience that is largely predisposed to equating it with Misal and Vada Pao - when in truth, it is a far more sophisticated and varied set of sub cuisines waiting to be discovered!
Check out recipes by Saee - Parsley Chicken and Rosemary Focaccia