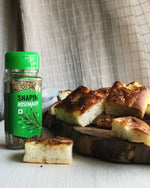 Prep time: 30 minutes (including proofing time)
Cooking time: 25 minutes 
Serves: 4
Ingredients: 
2 cups plain flour (maida)
1 teaspoon fresh or fast acting dry yeast 
1 teaspoon caster or powdered sugar 
1 teaspoon salt 
½ tablespoon olive oil for dough + ½ tablespoon for rosemary oil + 1 tablespoon olive oil for brushing and greasing 
1 teaspoon SNAP!N Rosemary for dough + ½ teaspoon for topping 
1 small red onion, sliced 
½ teaspoon grain sugar 
¼ teaspoon sea salt 
1 cup lukewarm water (more or less as required) 
Method: 
Assemble and weigh out the ingredients 
Place the yeast and sugar in a bowl of lukewarm water.  
Mix quickly and leave aside for 5-10 minutes. 
You will notice that the yeast begins to froth and float to the surface.
Add the bloomed yeast liquid to the plain flour. 
Bring the dough together. 
Knead until the dough is soft but quite rough in appearance. 
Mix the salt with ½ tablespoon olive oil. 
Add the salt and olive oil mix to the dough and knead again until soft and all the oil is absorbed. 
Cover the bowl with a kitchen towel and leave to rest for 15-20 minutes. 
Uncover the dough. It should have risen to almost double its volume by now. 
Add 1 teaspoon SNAP!N Rosemary to a small mixing bowl. 
To this, add ½ tablespoon olive oil and mix. 
Add this rosemary oil to the dough. Knead lightly to mix. 
Grease a baking tray liberally with ½ tablespoon olive oil.
Place the dough on the greased tray. 
Use your fingertips to spread the dough on the tray and make indentations. The dough should not be more than three quarters of an inch thick. 
Sprinkle with sea salt. 
Sprinkle sliced onions. 
Sprinkle SNAP!N Rosemary. 
Sprinkle grain sugar.
Leave to rest for 20-25 minutes. Preheat the oven to 200 degrees centigrade. 
Drizzle ½ tablespoon olive oil on the dough. Bake at 200 degrees centigrade for 15-20 minutes or until evenly golden brown. 
Brush with the remaining olive oil. 
Remove from the baking tray and leave to cool for 35-40 minutes. 
Cut into squares and serve.