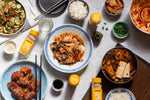 "When I was learning how to cook, I was very inspired (ahem...obsessed) by Maangchi. I started cooking more Korean food than Indian food as a college kid and used to make all sorts of cheap-ish Korean food because I couldn't afford all the ingredients. My first kimchi was questionable but then I remembered how my best friend had told me she had made her own version of kimchi and had accidentally added sambhar powder to it. 
With time my Korean+kimchi game has improved a lot by reading and researching. So this is a small homage to Maangchi and all the Korean lunches I've prepared for my friends and mostly myself at home."
- Sanskriti
Recipe developer, SNAP!N
Recipes:
Kimchi
Prep Time: 2 hours 20 minutes
Cooking time: none 
Serving: 700-900g
Ingredients:
Method: 
Mix salt, water and stir until the sea salt has dissolved in a large bowl. Remove the leaves of the Nappa cabbage one by one and place them into the water bowl. Let it sit for 1 hour. Now turn the Nappa cabbage over and let it sit for another 1 hour. 

Take a medium sized pot, add water and rice flour. Keep stirring till it boils. Now add the brown sugar and mix. Turn the flame off after a minute. And let it cool. Add it to a large bowl. 

Chop onions, garlic, ginger and blend them in a mixer till it becomes a paste. Add it to the large bowl with the rice flour mixture.

Now add in SNAP!N Kashmiri Chilli Paprika. Combine the mixture well. 

Add the carrots, radish and green onions. Mix well.

Rinse the salted cabbage to get the salt water off and add the cabbage leaves one by one to the chilli bowl, coating it well. 

Place the seasoned kimchi into a large mason charge and leave it out at room temperature overnight and then keep it in the fridge. 

This can last for 3-4 months. 
2. Kimchi Jjigae 
Prep time: 10 minutes
Cooking time: 20 minutes
Serving: Makes one loaf
Ingredients:
Method:
First, boil the pork in your chicken stock for 10 minutes. Remove the pork and set aside.

Take a large shallow pan, add some sesame oil and fry the onion and garlic for 2-3 minutes.

Now add kimchi and pork and fry for another five minutes. Add the sugar, soy sauce along with some SNAP!N White Onion Powder, SNAP!N Garlic Powder, SNAP!N Kashmiri Chilli Paprika.

Add in the stock and kimchi brine and let it simmer for 15 minutes. 

Top with some tofu and green onion. Serve with rice!
3. Cucumber Salad (Oi Muchim)
Prep Time: none
Cooking time: 5 mins 
Serving: For 2
Ingredients:
Method:
In a deep bowl add sliced cucumbers, soy sauce, rice vinegar, sugar, SNAP!N Kashmiri Chilli Paprika. 

Mix them well together.

Garnish with sesame seeds and green onions.



4. Korean Fried Chicken

Prep Time: 5 minutes with 1 hour resting period
Cooking time: 10-15 minutes
Serving: For 2
Ingredients:
Sauce ingredients: 
Method:
Dry the chicken pieces and marinate them for an hour with salt, SNAP!N Ginger Powder and fresh pepper and leave it in the fridge.

Again pat dry the chicken after it comes out of the fridge and cover the chicken with a thin coating of cornflour.

Take a frying pan and heat the oil. When the oil is hot, add in the chicken pieces, cook for 3-4 minutes. Take them out and cool on a rack.

Meanwhile, make your sauce. Take a sauce pan and add in all the ingredients, cook for 2-3 minutes. Let it cool.

Reheat your frying pan with the same oil and fry the chicken till golden brown. This should take another 5 minutes or so.

Take out the chicken and coat it with sauce. Serve with sesame seeds, chopped spring onions and extra SNAP!N Crunchy Garlic.