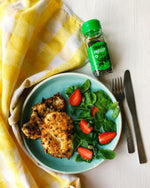 Prep time: 40 minutes 
Cooking time: 15 minutes
Serves: 4
Ingredients: 
2 chicken breasts, sliced horizontally to get 4 thin chicken breasts slices 
½ cup grated parmesan cheese 
¾ cup breadcrumbs 
Juice of one lime 
5-6 garlic cloves, minced 
1 teaspoon Kashmiri Chilli Powder 
¾ teaspoon salt 
¾ teaspoon freshly cracked black pepper 
2 teaspoons SNAP!N Parsley 
3 tablespoons vegetable oil 
Method: 
Assemble the ingredients. 
Place 1 teaspoon of SNAP!N Parsley in a mixing bowl. 
Add the minced garlic. 
Add the Kashmiri Chilli Powder, salt, and pepper. 
Squeeze in the lime juice. 
Mix all the ingredients together.  
Coat the chicken breasts in the prepared marinade. Leave to rest in the refrigerator for 20-30 minutes. 
Place the parmesan, breadcrumbs and 1 teaspoon SNAP!N Parsley in a shallow mixing bowl.
Mix well. 
Coat both sides of each chicken breast in the parmesan-parsley-breadcrumb mix. 
Refrigerate the crumbed chicken breasts for 10-15 minutes. 
Fry the crumbed chicken breasts in medium-hot oil for 5-8 minutes on each side until golden. 
Serve hot with a side of salad.