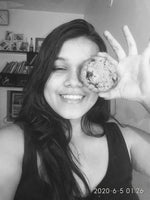 Baking is therapy for me. Whenever I've have a bad day I'll go into the kitchen and start baking something. The warmth and aroma of baked goods give me comfort.

I've always liked to cook. When I was younger, I'd help my mother in the kitchen and make cakes out of chocolates and sweets for her birthday.

When I turned 16, I felt the need to explore my love for cooking and baking further. My first cookie was rock hard but I didn't give up. I made them every day until I got perfect at it.

I would research for hours before making something and nothing makes me happier than nailing the perfect recipe.

When I did this for a year, I realised that I had a lot to share. I had developed recipes of my own.

In June 2020, I started my page The Brown Table. I am very grateful to this community where I get so much appreciation for my passion. I also learned food photography and the joy of capturing my own food is insane.

It's my first year of college and managing both things together often gets tough but I know my love for cooking runs so deep that I will find a way to balance both.
Until then, happy baking guys.
Check out recipes by Tanishqa - Herb Crackers and Nutmeg Cookies