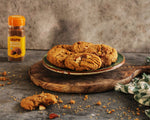 Prep time: 15 mins
Cooking time: 10-15 mins
Makes: 6 cookies
Ingredients:
¼ cup butter, softened

½ cup brown sugar

½ cup + 2 tbsp all purpose flour ( maida)

Half flax egg ( 1tbsp flax seed meal + 1Tsp water)

¼ tsp vanilla essence

¼ tsp baking soda

1 teaspoon SNAP!N Nutmeg Powder

7-8 almonds
Method:
Add softened butter to a bowl and add sugar to it.

Beat the butter and sugar together until it becomes 

pale in colour (beat it properly so it incorporates air into the batter).

Add vanilla essence and SNAP!N Nutmeg Powder

Add baking soda and flour.

Bring everything together.

Add chopped almonds to the dough.

Cover the dough and chill 

Scoop the dough on a lined parchment sheet or foil and sprinkle some nutmeg powder on to the cookies.

Bake at 180°C for 10 -15 mins or until they are slightly brown from sides.

Cool them properly and serve them with milk or coffee!