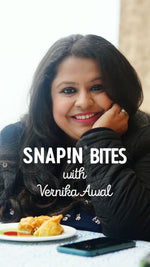 There are so many little details and nuances involved in the what and why we cook and eat what we do in our homes and cultures.

These food practices have been passed down in our families and have evolved with the passage of time.

Before we lose the little details to time, it is important to document and understand them as it forms an integral part of who we are.

SNAP!N Bites is a series where we collaborate with talented chefs and creators who dive into the details of their own flavourful journey with food.
Watch the video below to know more: