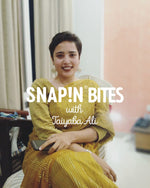 Food has always been about learning and unlearning techniques to create memories for me, especially as a recipe developer and food content creator.

My documentation of the Lucknowi sheermaal bread is based on how I use nostalgia as a yardstick for creating content in food that best encapsulates what used to be and what is.
Watch the video below to know more.
- Taiyaba Ali
SNAP!N Bites, a series where we collaborate with talented chefs and creators who dive into the details of their own flavourful journey with food.