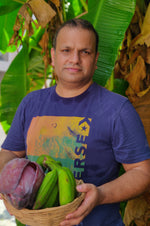 I was introduced to the wonders of food and the working of a kitchen pretty early in life. In a household with the kitchen as the nucleus, it soon became the centre of my day-to-day life.
Initially learning through osmosis, I eventually discovered cooking is the only art form that engaged all the senses, not just from its practitioner but also the 'consumer/audience', and found myself drawn to this multi-sensory, immersive practice as a medium of expression.

I often turned to it for solace, sometimes in search of comfort it became a reassuring confidant, a place to embark on adventures and encounter misadventures that led to enriching life lessons.

Growing up, spending two months every year on my grandparents' farm and orchard in rural Southern India, was the most profound experience that has defined my relationship with food and one that has held me in good stead.

I have come to the conclusion that food for me is essentially story-telling. A means to communicate. This pursuit has helped me reach the top batch of contestants on MasterChef India, seen me work as a cuisine content creator for a corporate house, run a home-based catering venture and contribute as a researcher and co-writer on a television cookery show.

I consider these roles aspects of chasing flavours and narrating stories through and about food. The joy of revisiting and reliving nostalgia or creating new lasting memories for people is a precious gift and a privilege I am extremely grateful for. The pleasure I derive from being a student of cuisine is truly unparalleled.
Check out Swapneel's recipes for SNAP!N - Herbed Mushroom Stuffed Finger Millet Crêpes and Piri Piri Corn Ribs