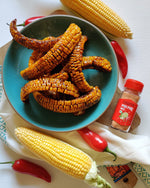 Prep Time: 10 Mins.
Cooking time: 20 Mins.
Serves: 4
Ingredients:
4 Corn on the cob (choose tender ears of corn)
Oil for deep frying
For the Piri Piri Sauce:

2 tbsp - SNAP!N Piri Piri Mix
2 tbsp - Tamarind Paste
4 tbsp - Honey
2 tbsp - Refined Oil
1/3 cup - Water
Salt for seasoning (if required)
Method:
Peel, de-husk and cut the ears of corn lengthwise into two equal halves. If the core is tough, use a heavy rolling pin to tap the knife and cut through it.
Using the same technique, cut the corn halves into longitudinal quarters.
Heat oil in a wok and deep fry the wedges of corn. Fry in batches to avoid overcrowding the wok in order to maintain optimum frying temperature.
The corn 'ribs' will curl up as they fry. Once golden, remove onto an absorbent kitchen towel and set aside.
Heat 2 tbsp of oil in a wok.
Add the tamarind paste followed by the honey and stir to mix.
Add the SNAP!N Piri Piri Mix and stir to mix thoroughly.
Add the water and cook the sauce till it is reduced and thickens to a coating consistency.
Check for seasoning and add salt if required.
Add the fried corn 'ribs' and toss gently to coat each piece with the Piri Piri glaze.
Serve the Piri Piri Corn Ribs piping hot.