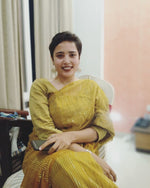 My kitchen is the soul of the house. A living lab of emotions, invention, memories and what not!

A large chunk of my know-how on food and eating comes from being a keen observer. While growing up in Lucknow and even before I started cooking - I would stand alongside family members, mithaiwalas, bawarchis – my eyes following their hand movements as they cooked.

Later, when I moved to Delhi for higher education, food shows/ cooking tutorials became my escape from uninspiring meals served at the paying guest accommodation. On some days, I would go through menu cards and reviews, dishes and combinations to study flavours and trends.

As an individual who likes cooking a lot more than eating, I am drawn to the temporal currency of food and how it determines relationships; whether in the domestic space or marketplace. These are some of the topics that I like exploring through my cooking, writing and of course eating. And since I have been living away from home for nearly a decade, moving houses, kitchen spaces, go to eateries regularly - it is no surprise that I look at food as the only continuum.
Check out Taiyaba's recipes - Sweet Chilli Jam and Sarson Saag Paratha