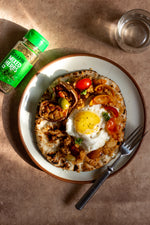 Tried the scrumptious Work From Home Feast recipes and have some leftovers?
Our favourite recipe developer Sanskriti has you covered with a quick and wholesome recipe to use up the flavourful leftovers.
Naan Plate:
Prep Time: 5-10 mins + 2 hours proof
Cooking time: 10 mins
Serving: 2
For the Naan:
Ingredients:
62 g all purpose flour 

2 g instant yeast 

2 g sugar

1 g salt

35g water 

1 egg
Method: 
In a bowl whisk together all purpose flour (maida), instant yeast and salt. Add in the yogurt and water and knead it by hand for 10 minutes till it is well combined. 
Cover the bowl with a plastic wrap or damp kitchen towel and let the dough rise in a warm place for 4 hours or till doubled. You can leave it in the fridge overnight too. 
Punch the dough lightly to release the air.
Divide the dough into 2 equal parts.
Heat up an iron skillet on medium high. Take a ball of dough and roll it into an oval shape. 
Dip your finger or take a brush and apply some water on one side of the naan. Now transfer the wet side of the naan on the hot skillet. After 10 seconds, flip the skillet so that it faces the gas directly and cook for another 10-15 seconds.
With the help of the tong remove the naan completely from the skillet and cook it directly on the flame for another 10 seconds. 
Smother the naan with ghee.
Now layer the naan with Tzatziki, leftover Daliya pilaf and Piri Piri tossed eggplant.
In a small pan, add some oil and crack open an egg. Add the SNAP!N Mixed Herbs and salt. Your fried egg should be done in 3-4 minutes. Serve it on top of your naan.