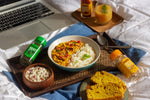 On the meal recipe:
"I've been living alone for many years now and there is nothing more comfortable for me than having a bowl of daal chawal - dahi and watching random things on my laptop, in bed. My mom will be really upset if she reads that I eat on my bed, even though she has made sure I've always had a table just for eating."
- Sanskriti
In-house recipe developer, SNAP!N
Binging In Bed Tray Recipes:
1) Moong Daal with Egg Tadka:
Prep time: none
Cooking time: 5 mins 
Serving: For 2
Ingredients:
Method:
Pressure cook moong dal with ¼ tsp turmeric powder, salt and 2 cups of water. 

Pressure cook the dal for 2 whistles. 

Heat a kadai with mustard oil, add the cumin, asafoetida till you can smell the aroma. 

Add in the chopped onions, garlic, green chillies and cook till they are slightly brown.

Add in the chopped tomato, ginger, salt, coriander powder, SNAP!N Kashmiri Chilli Paprika, and cook till soft.

Take a small bowl and break in 2 eggs, whisk them and add some salt.

In the same pan with the onion tomato mixture, push the mixture to the sides of the pan to form a circle in the centre. In the centre, add in the eggs and scramble them till cooked. Now mix the masala from the sides and cook together. 

Mix the egg masala and the daal together and serve with rice. Top with fresh coriander, fried garlic, and fried onion (optional).
Raita:
Prep time: 2 minutes
Cooking time: none
Serving: For 2
Ingredients:
Method:
Mix all ingredients together and serve
Sweet Potato Tea Cake:
Prep time: 30 minutes
Baking time: 50-55 minutes minutes
Serving: Makes one loaf
Ingredients:
Method: 
Preheat the oven to 180C, with oven fan on. Take a loaf pan and coat the pan with oil and line the bottom and two longer sides with parchment paper. Leave an overhang of the parchment with 1-2 inches to the sides and set it aside.

Mix the flour, dry coconut, baking powder, turmeric powder, SNAP!N Ginger Powder, salt, garam masala.

Take another bowl and whisk together eggs, honey, vanilla, sugar till the batter is thick. Add in the mustard and refined oil and whisk again.

Roast sweet potatoes in a pan for 20 minutes, once cooled add it into a blender and make a paste. Whisk the sweet potato until smooth. 

Now add in this whisked, cooked sweet potato to the batter.
Add the flour mixture into the bowl until smooth.
Fold in the almonds.
Fill the pan with the mixture and sprinkle with 20g of powdered sugar. Bake for 50-55 minutes.
Let the cake cool and serve with your meal. 
Aam Panna:
Prep time: 10-15 minutes, 1-2 hours chilling time
Cooking time: 5 minutes 
Serving: 4
Ingredients:
Method: 
Roast the raw mango on an open flame evenly till all sides are black. Keep rotating the mango using a tong. 

Cool the mango and peel off its skin. Scrape the flesh and add the roasted flesh into a grinder. Add in the jaggery, SNAP!N Cardamom Powder, black salt and SNAP!N Kashmiri Chilli Paprika and blend till you get a smooth paste.

Now

take the paste and mix it with water into a jar. Add some mint and refrigerate until serving.
Order the products from these recipes, here: