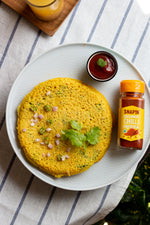 If you tried the recipes for the Binge In Bed Tray, you may have some leftover cooked dal.
Here's a quick breakfast or snack recipe to help use up the dal.
Prep Time: 5 minutes
Cooking time: 5 minutes
Serving: For 2
Ingredients:
100g leftover dal

25g besan

20g all purpose flour

½ onion, chopped

1 green chilli, sliced

1 tsp salt

Water as necessary 

2 tbsp Oil 
Method:
In a bowl, mix dal, besan, all purpose flour, onion, green chilli, SNAP!N Kashmiri Chilli Paprika and salt till you get a smooth batter. Add water to give it a thinner consistency. 

In a small pan, over medium heat, heat the oil and pour the batter. Heat it for 3 minutes on one side and then flip and heat for another 3 minutes. 

Serve with fresh coriander and ketchup.