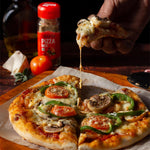 Prep Time: 4 hours or 72 hours (for the dough)
Cooking time: 15 minutes
Serving: Makes 4 small 8 inch pizzas
Ingredients:
Dough:
180ml (1+ 1/3rd) cup water 
2g (½ tsp) sugar
2g (½ tsp) salt
7g (3/4th tsp)  instant yeast
240g (2 cups) flour (maida)
20g (2 tbsp) olive oil
 Pizza Sauce: 
20g (2 tbsp) olive oil 
1 clove garlic, minced
6 tomatoes, boiled and crushed in a mixer
2g (½ tsp) sugar or ketchup
20g (2 tbsp) tomato paste
2g (½ tsp) salt 
20g (2 tbsp) SNAP!N Pizza Mix
Freshly cracked black pepper
5g (1 tsp) red chilli powder 
Toppings:
50 g mushrooms sliced
2 Capsicums, sliced
1 onion, sliced
Any vegetable that you have available. 
Method:
Pizza Dough:
In a bowl add your flour, instant yeast salt and sugar.
You can add the SNAP!N Pizza Mix, Crunchy Garlic, Thyme to the dough to add in more flavour but this is optional.
Lightly flour your work surface and knead the dough with warm water for 10 minutes till it forms a ball. It should spring back when you poke it. 
Coat the dough in olive oil and place it in a bowl in a warm place till it doubles in size. This should take 4 hours. The depth of the flavour of pizza dough increases if you keep it in the fridge for three days, but this is optional. 
Pizza Sauce:
Boil the tomatoes for 10 minutes, then remove the skin. Once cooled down, make a puree out of it.
Add the olive oil and garlic to a sauce pot and cook over medium heat for 1-2 minutes
Add the pureed tomatoes, tomato paste, red chilli powder, sugar, salt, SNAP!N Pizza Mix and some freshly cracked pepper. Stir to combine.
Cover the pot, let simmer for 15 minutes minimum, or up to 30 minutes  
Toppings:
You can go with whatever is available in your fridge. I went for a vegetarian pizza and added some sliced onions, capsicum and mushrooms. 
Assembling the pizza: 
Preheat the oven to 250 degrees celcius and place a pizza stone. If you don't have one just invert your tray and let it preheat in the oven. 
After the dough has doubled press it down and deflate it. Divide it into 4 batches of 200g of dough.
Roll out one dough into a lightly floured parchment paper and then stretch it into a disk. Use your fist to make an indent in the center of the pizza and then keep enlarging the dough using your hands.
Brush the dough with olive oil, spread the sauce, add your toppings and cheese. Add some SNAP!N Pizza Mix.
Transfer the parchment paper along with the pizza on top of your tray. Bake for 12-15 minutes at 220C. Repeat for rest of the dough.