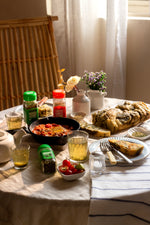 "I usually never feel like eating breakfast because I am one of those people who make a lot of food in the morning for the rest of the day and don't feel like eating after making food. But the few days I do eat breakfast it's usually all out. Homemade bread, some form of eggs and tea".
- Sanskriti
In-house recipe developer, SNAP!N
Breakfast Table Recipes:
Purgatory Eggs:
Prep Time: 2-3 minutes
Cooking time: 10-15 minutes 
Serving: 2
Ingredients:
2 tsp of olive oil or butter

4-5 garlic cloves, smashed

1 tsp of salt

½ tsp ground pepper

1 tsp of SNAP!N Kashmiri Chilli Paprika

100g of cherry tomatoes or one regular tomato chopped

1 tsp of ketchup

50g of spinach, roughly chopped

1 or 2 eggs (depending on preference)

1 tsp of SNAP!N Mixed Herbs

Grated cheese (optional)
Method: 
Heat the oil in a medium skillet, add in crushed garlic and cook till golden.

Add the tomatoes as well as the salt, pepper and SNAP!N Kashmiri Chilli Paprika.

Toss the tomatoes from time to time, till the skins start to come out. Add in a teaspoon of ketchup. Now cover the pan and cook the tomatoes for 5 minutes, occasionally remove the lid and lightly smash the tomatoes.

Chop the spinach roughly and add it to the pan, cook for another one minute.

When the sauce starts to bubble, crack the eggs directly on to the skillet. Season the eggs with salt and SNAP!N Mixed Herbs. Optionally, you can grate some cheese on top of eggs and tomatoes. Cover the pan for 2-3 minutes or till the whites are set but the yolks are still runny. 

Serve with toast.

Coriander Chutney and Garlic Babka

Prep time: 5 minutes for chutney and 20 mins for the Babka + 4 hours waiting time for proofing (dough to rise)
Cooking time: 35 mins
Serving: Makes one loaf 
For the Coriander Chutney: 
Ingredients:
200g coriander, washed and dried

100g mint, washed and dried

4-5 cloves of garlic

2 inch ginger

2 green chillies

1 tsp of salt

1 tsp jeera powder

1 tsp of squeezed lime juice
Method:
Add all the ingredients to a mixer and mix till they're well blended. Add 1-2 tbsp of water if necessary. 
Click to order the SNAP!N Kashmiri Chilli Paprika and SNAP!N Mixed Herbs.
For the Babka:
Ingredients:
350g all purpose flour (maida)

7g instant yeast

15g sugar

5g salt

160g water

1 egg

15g unsalted butter (softened)

45g milk

2 tbsp of SNAP!N Cheesy Garlic Bread Mix

Grated cheese (optional)

1 egg for egg wash

Sesame seeds
Method: 
In a bowl, add in the flour, yeast, sugar and salt. Make a well in the centre of the bowl and slowly add in a mixture of water, egg and milk (that has been beaten together lightly) 

Knead the dough for 10 minutes, it will be a little sticky. At this point you can remove the dough from the bowl and put it on a marble countertop.

Now slowly add in the butter into the dough and keep kneading. This should take another 5-7 minutes. Form a ball out of the dough, use your finger tip and gently press the ball, the dough should spring back up. If this is not the case keep kneading. 

Now take a larger bowl and oil it. Place your babka dough in it and cover the bowl with a damp cloth or a plastic wrap. Let it rise for 4hrs or till doubled.

Sprinkle flour over a flat surface and roll out the dough into a rectangle.

Smear the chutney on top of the rectangle leaving a 1 inch border on all the edges. Generously sprinkle in SNAP!N Cheesy Garlic Bread Mix. You can optionally add in some grated cheese of your choice as well.

Now roll the the rectangle from the top towards you, till it looks like a cylindrical log

Take a sharp knife and slice the log lengthwise into half. You'll have two logs now. Braid the two halves of the dough by putting one half on top of the other. Repeat the process and pinch the ends together. 

Transfer the braid into a loaf pan. If you don't have one, you can put it in a cake tin and form a circle with the dough braid.

Cover the pan with a damp cloth and let it rise till doubled.

 Preheat the oven to 180C. Brush the loaf with egg wash, sprinkle sesame seeds and some more SNAP!N Cheesy Garlic Bread Mix.

Bake for 35-40 minutes, let it cool and serve.
Click to order the SNAP!N Cheesy Garlic Bread Mix.

Mint tea

 Prep Time: none
Cooking time: 5 mins 
Serving: For 2
Ingredients:
250 ml water

4-6 tbsp of honey

1 squeezed lime juice

1-2 tsp of SNAP!N Mint
Method:
Take a sauce pan and pour in the water.

Add the SNAP!N Mint and let it boil.

Take a tea cup and add in honey and lime juice, pour in the water through a sieve.

Enjoy with your breakfast!
Click to order the SNAP!N Mint.
Leftover Hack - Here's a quick and easy French Toast recipe to utilise any leftover Coriander and Garlic Babka.